Is the Paleo Diet just another fad, or is it the ultimate way to eat? The paleo diet has taken over the health and fitness world as a whole, making a lot of promises to do well if you listen to the hype.
According to its most ardent supporters, the paleo diet is the ultimate way to eat. The most talked about benefits are very impressive:
An easy and quick way to lose weight without counting calories.
High and balanced energy levels with no dips.
No cravings for unhealthy foods.
Improvement in exercises.
Protection against various types of diseases such as cardiovascular disease and diabetes.
Clearer skin and prettier hair and teeth.
Allergy reduction.
Improved sleep.
In short, many experts sell the Paleolithic diet as the ultimate diet. A way to bring the power of genetics to your side and positively alter how your genes are expressed. Can the Paleolithic diet really deliver what it promises? Lets find out how to lose weight with her. 
What is the Paleo Diet?
Paleo diet is a contraction for Paleolithic diet, which refers to the Paleolithic era of history, a period spanning from 2.4 million years to 10,000 years ago. During this period in history, humans grouped together in small nomadic societies and developed simple tools for hunting and fishing.
The idea behind the Paleo Diet is to eat like our ancient ancestors did - a diet consisting of fish, grass-fed meats, eggs, vegetables, fruits, fungi, roots and nuts. This is why it is also known as the caveman diet, stone age diet, and hunter-gatherer diet.
Foods excluded from the Paleo Diet are grains, pulses (peanuts, various types of beans and chickpeas), dairy products, potatoes, refined salt, refined sugar, and processed oils (trans fats, as well as refined vegetable oils such as canola, sunflower and safflower).
As you can see, its a high-protein, low-carb, high-fat diet, and it makes you eat a lot of animals and animal products.
And if it sets some alarm bells ringing in your head, warning you of heart attacks or worse, hang in there. Well talk about the health aspects of the paleo diet in minutes, but first, lets do a quick review of its theoretical underpinnings.
Why should we eat like cavemen?
That was the first question that comes to mind when we ponder the paleo diet.
Who cares how our ancestors ate?
So, Paleolithic diet enthusiasts will answer that for millions of years (before the Big Mac era), we humans were hunter-gatherers. We didnt have agriculture, convenience stores, or ways to store processed food. You had to eat nuts, wild plants and fresh meats. And theyll even say that we were much healthier back then, with no arthritis, no cancer, no osteoporosis, and no heart disease. Therefore, they concluded that we must abandon our modern habits and go back to the roots of our eating habits.
Well, even though ancient men may not have been as healthy as some think, the idea still has appeal. With diseases spreading across the world over the last century, something is profoundly wrong with the way modern humans are living, and food is one of the biggest culprits.
But is a return to the stone age the answer?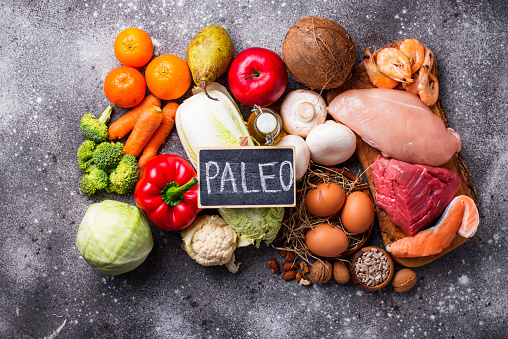 To begin with, the first problem with the paleo diet theory is the claim that just because a food processing method or eating habit is newer, it is automatically worse than the ancestral model.
Our prehistoric ancestors had only one thing on their minds every day: survival. They ate anything they could get their hands on, including each other at times. The point is, their food choices werent always the best, and if we were transported back to the Paleolithic era, wed be smart enough to decline a dinner invitation.
 While it doesnt have much influence over dietary protocols themselves, its hardly ironic that Paleolithic humans didnt follow the Paleo diet. The historical angle of the Paleo Diet is based on a group of findings by its founder, Dr. Loren Cordain, and other researchers, who propose that humans during the Paleolithic era were primarily hunter-gatherers, with an emphasis on hunting.
This article is an important part of the scientific foundations of Deita Paleo and is in turn based on a flawed Ethnographic Atlas, a database on diverse cultural aspects of 1167 societies.
Primate ecologist Katherine Milton wrote a very interesting article about this case, here are some of the most important points:
The Ethnographic Atlas data sources are largely from the 20th century. We have already discovered that some so-called hunter-gatherer societies were not just that.
Some of the authors who helped compile the Atlas were sloppy in their data collection. In addition, most researchers were men, so much of the collection and processing that was done by women was overlooked or misreported.
The hunter-gatherers included in the Atlas were modern humans, not people living in the primitive conditions of our distant past. The wide variety of eating behaviors seen does not form a pattern that it is possible to emulate. Furthermore, most hunter-gatherer societies lived on vegetables, and emphasis on hunting was rare.
These criticisms were made from other studies:
A study conducted by the Max Planck Institute for Evolutionary Anthropology reported that the diet of our earliest human ancestors, dating to approximately 2 million years ago, consisted almost exclusively of leaves, fruits, wood and tree bark, much like todays chimpanzee.
A study conducted by the University of Calgary found that the diet of ancient Africans (going back as far as 105,000 years ago) may have been based on sorghum cereal grass (remember that grain is one of the big bans on the Paleo diet).
Research conducted by the Center for the Advanced Study of Hominid Paleobiology shows that European Neanderthals ate starchy grains nearly 44,000 years ago.
Researchers at the Italian Institute of Prehistory and Ancient History also found that grain was a common part of the diet of our Paleolithic ancestors. These findings suggest that processing of vegetables and starches, and possibly even milling them into flour, goes back as far as 30,000 years ago in Europe.
So, while to lose weight, eat like our ancestors may sound like a good marketing strategy, the reality does not agree with what is preached by the Paleolithic diet.
Now, even if that takes away some of the scientific legitimacy and shine of the paleo diet, that doesnt mean its not a good way to eat. The new question then is: Even if our ancestors werent strict, is the Paleo diet still worth it?
  Introducing some advantages of the Paleo Diet:
Here is the premise of the Paleo Diet, as stated by its founder, Dr. Loren Cordain:
With modern foods available, the paleo diet simulates the types of food that everyone on the planet ate before agricultural evolution (only 333 generations ago). These foods (fresh fruits, vegetables, meats, and seafood) are full of beneficial nutrients (soluble fiber, antioxidant vitamins, phytochemicals, omega-3s, monounsaturated fats, and low-glycemic carbohydrates) that promote good health and are low in nutrients ( refined sugars and grains, trans fats, salt, high glycemic carbohydrates and processed foods) that often cause weight gain, cardiovascular disease, diabetes and countless other health problems. The paleo diet encourages adherents to switch from dairy and grain-based products to fresh fruits and vegetables, foods that are more nutritious than whole foods and dairy.
Despite the mistakes of this revisionist version of how our ancestors ate, it seems like a pretty sensible way to know how to lose weight, doesnt it? But wait!
You might be thinking, Wont eating a lot of saturated fat make your heart explode? No no go. The myth that saturated fat intake is associated with heart disease has now been totally debunked, but it still pops up.
The truth is, there are a few good things that can be said about the paleo diet:
It is a high protein diet, which is quite healthy.
It emphasizes lean, non-fatty meats, which is an effective way to control calorie intake and prevent imbalance in omega-3 and omega-6 fatty acid intake.
It also bans processed meats, which are dangerous to health.
It includes many nutritious vegetables and fruits that lower the risk of various diseases such as: cardiovascular problems, heart attack, type 2 diabetes and cancer.
It emphasizes a higher intake of omega-3 fatty acids, which provides a wide variety of health benefits, such as reduced blood pressure, lower risk of kidney and heart disease, as well as aneurysm and metabolic syndrome, improved cognitive functions. , and more.
It bans sugars that function as empty calories.  High-sugar diets are often deficient in many micronutrients, because foods high in sugar typically have low nutritional value.
It excludes carbohydrates with a high glycemic index which, if consumed regularly and in sufficient amounts, can increase the risk of cardiovascular disease and diabetes.
It excludes trans fats, which increase the risk of cardiovascular disease and induce insulin resistance.
Theres no arguing: the paleo diet is a healthy way to eat and its backed up by peer-reviewed literature.
A study conducted at the University of California found that when compared to a subjects normal (poor) eating habits, the paleo diet improved blood pressure, glucose tolerance, insulin sensitivity, and lipid profile.
Another study, conducted by Lund University, found that the Paleo diet was better for type 2 diabetes than the traditional diabetes diet as it improved glycemic control (the bodys ability to control sugar levels) and heart risk factors.
So clearly the Paleolithic diet has its merits. But the problems with the paleo diet begin when we delve into this dogma.
Problems with the Paleo Diet
The first big problem with Paleo is the assumption that it is a way of eating that is superior to all others.
The highest life expectancy on the planet is from the populations of Okinawa in Japan, Sardinia in Italy, Nicoya in Costa Rica, Ikaria in Greece, and Seventh-day Adventists in Loma Linda in California, the Blue Areas as these geographic locations were called.
These populations are anything but Paleo, they dont eat much animal food and typically live on a starch-based diet.  To quote a comprehensive review on your eating patterns:
…dietary patterns associated with longevity emphasize fruits and vegetables, along with a reduced content of saturated fats, meats, refined grains, sweets, and full-fat dairy.
And more:
Equally remarkable is the wide variation in other aspects of healthy diets, particularly macronutrient intake. The traditional Okinawan diet averages 90% of its calories from carbohydrates (predominantly from vegetables) while the traditional Mediterranean diet averages 40% of its calories from fat, mostly monounsaturated and polyunsaturated fats.
The point we want to make is that it is tempting to think of blue zone diets as the best way to achieve perfect health, but it would be wrong to think so. There are many non-diet-related factors that contribute to longevity. The same can be said about the Paleo Diet.
The second problem with the Paleo Diet is not what you eat, but what you avoid.
By sticking to the Paleo Diet, you miss out on many potential benefits of foods like dairy, vegetables, and whole grains, and the reasons to avoid these foods are scientifically flawed.
For example…
Dairy products are good sources of calcium, protein, vitamin D, potassium, magnesium, zinc and several other vitamins. Research shows that dairy can improve bone health, strength, and even help with other things like losing weight and increasing muscle mass. Now, lactose intolerance is quite common and these people can get these nutrients in another way, but for those who do well with dairy, it is a very nutritious food.
It is important to note that attention should be paid to the quality of the most common dairy products, due to the poor health of many of the dairy cows and the artificial hormones supplied to the cows that end up in the milk. These questions are not part of the Paleo diet argument against dairy, which is simply because our ancestors didnt eat dairy, we shouldnt either.
Whole grains have been shown to reduce the risk of inflammation in the body, cardiovascular disease, type 2 diabetes, cancer and even reduce the death rate. 
Paleo advocates often claim that whole grains cause damage to the intestines, but there is no credible research done on living organisms to back up these claims.
Now, as with dairy, some people dont do well with grains. Gluten intolerance is quite common, and refined grains are not a good substitute for whole grains, as they lose a lot of nutrients in the process and have been linked to an increase in inflammation in the body. But for those who dont have a problem with whole grains, theyre a great source of carbs, a variety of nutrients, and fiber.
Legumes, other than soy, have been shown to lower LDL (bad) cholesterol levels.  They are also a great source of protein, carbohydrates and fiber.
Those who recommend the Paleolithic diet usually say that you should avoid legumes, as they believe our ancestors did not eat them and because they contain antinutrients that interfere with nutrient absorption. Legumes do contain these anti-nutrients, but many other foods do as well, and you can reduce them by soaking or cooking.
In summary, the antinutrients found in whole grains and vegetables are only a problem if your diet lacks nutritious foods and is completely unbalanced in terms of macronutrients. Yes, if you eat a lot of whole grains and beans during the day, you are going to have some problems. However, there is no research to indicate that antinutrients are a problem if eaten normally as part of a balanced diet.
As you can see, while the approved foods on the Paleo diet are very good, the forbidden foods make no sense. One last thing is about claims that you can lose weight on the Paleo Diet, without counting calories.
This is a little misleading, as any weight loss requires a calorie deficit, regardless of what kind of food you eat. Do not believe?
Take the case of a university professor, who lost 12 kilos eating only junk food like Ana Maria cookies, crackers, cakes and Doritos. How did he do it? Simply by regulating the QUANTITY of food he ate (total daily calories), not WHAT he ate.
There are many people who may not be losing weight on the Paleo Diet simply because they have no idea how many calories they are actually eating. Eating healthy, on a low-carb diet, doesnt mean youll automatically lose weight if you dont maintain a calorie deficit.
the end point
Despite the problems on the historical basis, the paleo diet has many advantages. Its much healthier than most peoples regular diet, and you can get a lot of health benefits from it. What many people do wrong when they follow it is to accept its extremes, which are not scientifically proven.
Its not a big surprise that the less dogmatic and more knowledgeable Paleo experts like Mark Sisson speak of an 80/20 approach. That is, you eat mostly meats, vegetables, fruits, fish, and nuts, but you include limited amounts of dairy, grains, and pulses, as well as other non-Paleo foods when you need to, or if you feel like it.